Why Peru is an excellent gastronomic destination?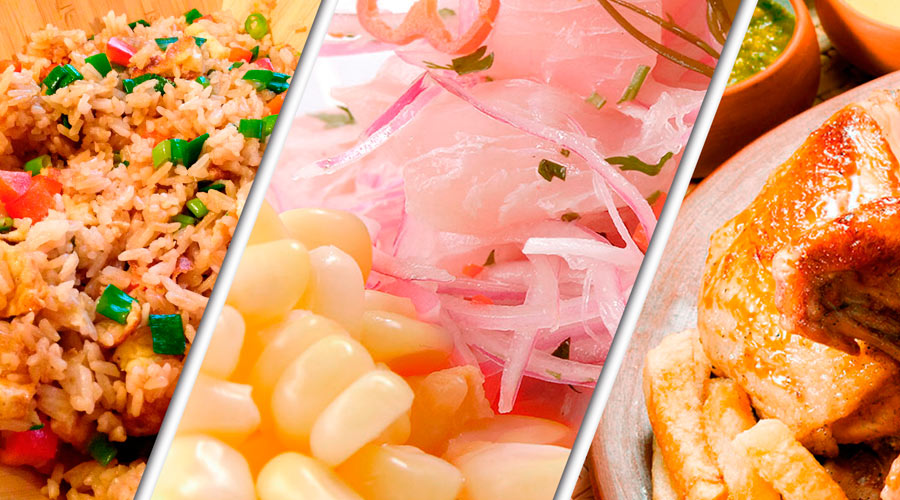 One of the main reasons why many people decide to travel to Peru is its varied and healthy cuisine, which often mixes sea flavors with Andean ingredients, soft textures with strong aromas and, always, many bright colors.
Cualquier plato fuerte que pidas a partir de las 12 del día, acompáñalo con un pisco y comenzarás a sentir un placer inigualable. Aquí te recomendamos algunos de los más tradicionales:
Muchos de los recorridos turísticos por este país comienzan en las playas del norte, en destinos como Trujillo que ofrecen aventura, historia y tranquilidad en un mismo lugar. Y aquí ya vas a poder comenzar a degustar las diferentes versiones de ceviche peruano que se preparan en todo el país, aunque al estar en la costa, aquí te garantizamos que probarás uno de los mejores. Además, esta ciudad se caracteriza por elaborar suaves y delicados alfajores, así que de una vez lleva unas cuantas cajitas para el camino y, si te sobran, para llevar de recuerdo a casa.
Seguramente después bajarás a Lima, porque no puedes pasar por Perú sin visitar su capital vibrante y muy entretenida. Aquí debes estar al menos unos cuatro días para alcanzar a visitar museos, playas, barrios acogedores como el Centro o Barranco, y comer cada día algo nuevo. Como ya probaste el ceviche de pescado, intenta con otros mariscos en la misma preparación, el mejor ají de gallina (según dicen las malas lenguas) y no te pierdas la famosa causa limeña, tal vez para un día de hambre moderada y calor.
¿Qué visitar ahora? Lo que todos visitan cuando vienen a Perú: el Valle Sagrado con sus imponentes atractivos naturales, arqueológicos y culturales. Tal vez probar cuy no sea una idea emocionante para muchos, pero aquí hay otras delicias que te dejarán encantado como la mazamorra morada con arroz con leche (un postre muy tradicional), las humitas de maíz o el olluquito con charqui, preparado con un tubérculo llamado olluco y carne seca de llama o alpaca. Acompáñalo con un vaso de chicha morada y verás cómo tu cuerpo te lo agradece.
Más al sur en Arequipa y Colca, los destinos que visitan quienes quieren ver el mítico vuelo de los cóndores, la cosa se pone picante con el rocoto relleno. Este ají rojo, de sabor dulzón y el tamaño de una manzana, se rellena con un sofrito de carne molida, cebolla, aceitunas, queso fresco rallado y huevo duro, y se acompaña con una tortilla de papa. Es tan apetecido que el rocoto incluso de exporta a diversos países del mundo para aquellos paladares en busca de sabores exóticos.
Y para terminar, algunas recomendaciones que podrás probar en casi cualquier destino peruano y así tener un panorama bastante amplio: la papa a la huancaína, que se caracteriza por llevar una salsa de ají amarillo y otras delicias; el lomo saltado con verduras, con un toque asiático exquisito; los picarones, una especie de buñuelos dulces hechos con harina y trozos de zapallo, y las chocotejas, unos chocolates rellenos que una vez que los pruebes… te perseguirán para siempre. ¡Buen provecho!