Type: Trekking
Duration: 4D/3N
Distance: 50 km
Season: March to November
Departure: Check Availability
Minimum of Passengers: 3 people
Choquequirao Trek 4 Days is an increasingly popular alternative to the Inca Trail. Choquequirao is an impressive Inca citadel located on the side of a mountain–overlooking one of the deepest canyons in the world, the Apurimac.
Its name in Quechua means "Cradle of Gold". Choquequirao is one of the most important tourist attractions in Cusco but still little known by tourists. This place seems to have had diverse functions including agricultural and religious.
Choquequirao is a challenging trek both due to the terrain and the hot climate, but includes a wide variety of plants and animals along the way.
The standard length of the Choquequirao trek is four days, but there is also the option to take it a little easier and do it in five. Ask us for more details and information about our departures.
The history of Choquequirao is lost in time and a large part of Inca sites were covered by vegetation, but thanks to support of Peru-France Foundations and the Peruvian National Institute of Culture, They work underway to clean the vegetation, maintain and conserve this great Inca city.
Research indicates that it was inhabited since Inca times, the construction has an influence from the Chachapoyas culture, a large number of tools were found in the place that were possibly used in its construction.
Chroniclers and historians indicates that it was an important city, it was built in a strategic place from where the Incas exercised control of the valley; new research indicates that Choquequirao was probably ordered to be built by Tupac Inca Yupanqui who was the son of Inca Pachacuteq.
At the time of the conquest, The Inca City of Choquequirao played an important role as one of the last refuges of the Incas who started a revolution against the Spanish conquerors. It is considered a sacred place like Machu Picchu because both Inca cities were important, each with its own characteristics. Visiting both Choquequirao and Machu Picchu cities is a unique experience.
Choquequirao trek 4 days and 3 nights; it is the classic trek, the walking time varies between 5 to 6 hours per day, this varies according to the pace of each person's walk.
In Cusco there are several hiking routes each with its own characteristics and level of difficulty, Choquequirao Trekking is one of the most demanding in Cusco, the level of difficulty of this route varies from a medium level to a difficult level for this reason. It is recommended to do this hike with a travel agency operating this trekking route.
The main characteristic of this trekking is that the route that we will enter is the same route that we will return and the walking distance is approximately 55 km.
One mean factors to decide to choose one of the treks in Cusco is the height, Choquequirao Trek has a maximum altitude of 3,100 meters above sea level located in the Inca city and as a minimum altitude of 1,500 meters above sea level in Playa Rosalina sector.
We are direct operators of the trek to Choquequirao and we have a great experience on this route, for this reason we recommend visited it between the months of March 15th to December 15th of each year. The months of January and February are rainy months for this reason access to Choquequirao is very difficult and in some sectors it is dangerous.
All the information about Choquequirao classic trek 4 days that we provide is important for people who want to visit the last refuge of the Incas and enjoy one of the most beautiful and challenging treks in Cusco.
View Map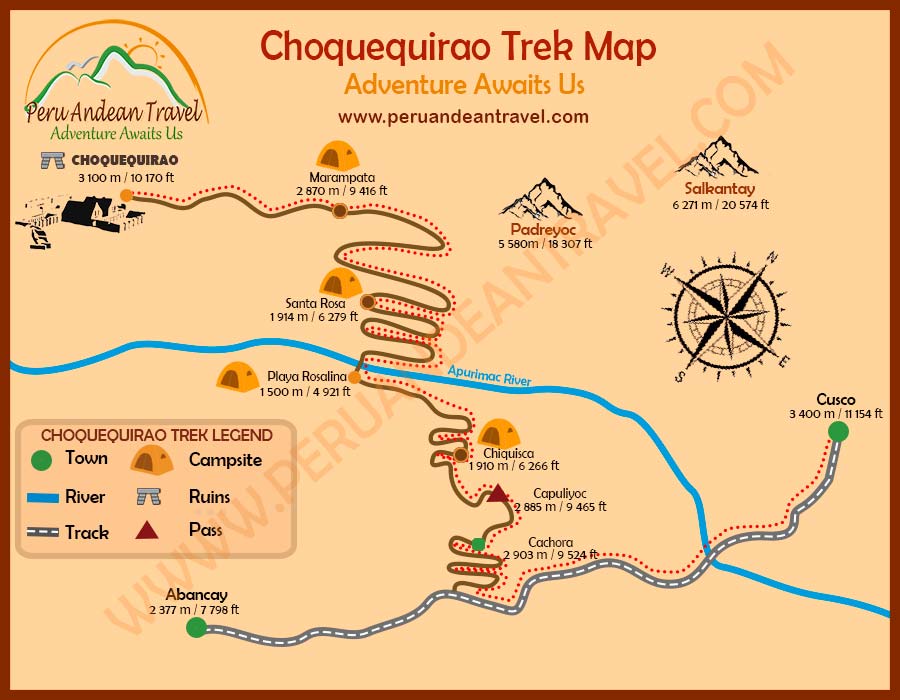 Choquequirao Trek 4 Days Itinerary
Day 1: Cusco - Cachora - Chiquisca - Santa Rosa
We begin with a three hour drive from Cusco to Cachora (2 903 m - 9,524 ft), then we continued our trip to punta carretera, where we meet with the group leader and horses. Once there we load the equipment and luggage onto mules and horses.
We pass through phenomenal scenery, arriving at Capuliyoc (2 885 m - 9,465 ft)viewing point, where we can enjoy a break and views of the entire valley and Apurimac canyon. Afterwards we descend until we arrive at Chiquisca, where we have lunch, afterwards we begin to walking down to Playa Rosalina (1,500 m - 4,921 ft) which is the lower part of the route, Playa rosalina, then we ascend until Santa Rosa campsite(1,914 - 6,279 ft).
Total distance: 15 km
Estimated walking time: 6 to 7 hours
Maximum altitude point: 2,885 m (9,465 ft)
Campsite altitude: 1,914 m (6,279 ft)
Day 2: Santa Rosa - Marampata - Choquequirao
After a healthy breakfast we begin to walking up, we then walk along a desert trail where agriculture is almost impossible due to the dryness. However, the inhabitants of the area are able to take advantage of some streams to cultivate sugar cane. After climbing up to around 1 470 m - (4,823 ft) we get to Marampata (2,870 m - 9,416 ft), where we enjoy a lunch surrounded by fantastic scenery. After a nap we continue towards Choquequirao.
Choquequirao, consisting of a guided tour which includes the recently discovered areas where the government is still working. In the afternoon we return to the Marampata campsite.
Total distance: 14 km
Estimated walking time: 8 to 9 hours
Maximum altitude point: 3,100m (10,170 ft)
Campsite altitude: 2,870 m (9,416 ft)
Day 3: Marampata - Playa Rosalina - Chiquisca
We walk down the same path until we reach Playa Rosalina where we enjoy lunch and a longer siesta to recover energy for the walk up to Chiquisca (1,910 m - 6,266 ft)campsite, where we will spend the night.
Total distance: 14 km
Estimated walking time: 6 to 7 hours
Maximum altitude point: 2,870 m (9, 416 ft)
Campsite altitude: 1,910 m (6,266 ft)
Day 4: Chiquisca - Cachora - Cusco
Early breakfast at around 4:30am in the morning followed by a walk up to Capuliyoc viewing point and then to Cachora village where we say "chao!" to the group leader and horses and continue by car to Cusco.
Total distance: 7 km
Estimated walking time: 7 to 8 hours
Maximum altitude point: 2,915m (9,500 ft)
Includes
Pick-up at hotel in Cusco.
Private transportation from Cusco to Cachora. (4 hrs).
Professional guide.
Meals throughout the trip (3 breakfasts, 3 lunches, 3 dinners).
Camping equipment (tents 4 seasons for 3 people , mattresses).
Accommodation in triple tent for two people.
First aid kit.
Mules to carry the camping gear and your belonging (5 kilos per person).
Horseman (for one to three mules).
Specialized cook.
Private car from Cachora to Cusco, including transport to your hotel in Cusco.
Not Included
Breakfast on the first day
Lunch and Dinner on the last day.
Entrance to Choquequirao.
Sleeping bag.
Walking stick.
Tips.
We recommend bringing