Festivity of the Virgen del Carmen de Paucartambo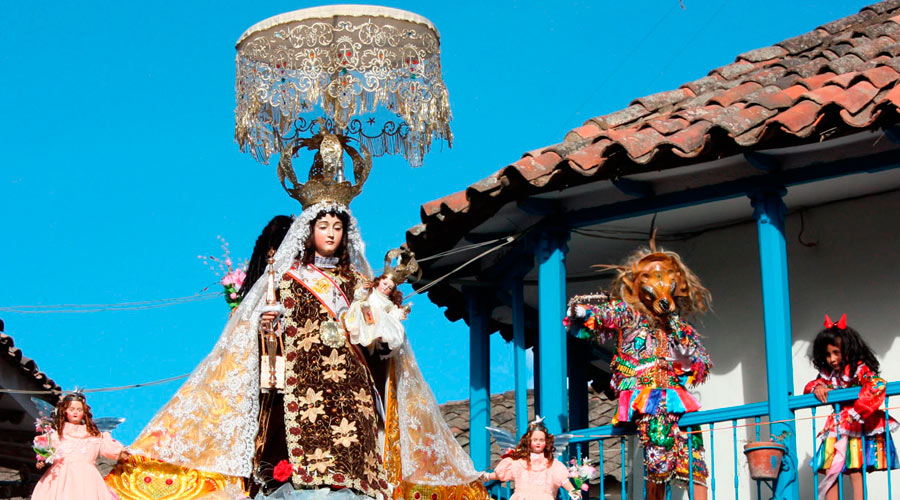 Esta festividad comienza el 14 de Julio en la noche con el tradicional ensayo de las danzas, el día 15 con la entrada a la fiesta, el día 16, es el día principal y comienza con la celebración de la misa de Aurora, la misa de Fiesta, la repartición del Once, y finalmente hacen la procesión de la Virgen, el día 17 se da la bendición y se hace la guerrilla, y la festividad finaliza el 18 de Julio con el Watatiaycuy y el Oqaricuy y en algunos casos hasta el 19 con el Walqanche o despedida a los músicos, La virgen del Carmen de Paucartambo es una fiesta celebrada no sólo con mucha religiosidad sino con un fervor que nace de algo más que el deseo de un pueblo de honrar a una sagrada imagen de 1.32 de estatura. Es que en Paucartambo cuando se rinde homenaje a la Mamacha del Carmen se celebra algo más que un rito católico; se celebra una idea colectiva que podría llamarse ¿tradición¿. En el mundo de hoy cada vez mas homogéneo, su reverencia por la tradición hace que los Paucartambinos dejen de lado la vida cotidiana de citadino o campesino para ponerse las mascaras de papel maché y los trajes de luces elaborados por sus pares y después de varias horas de ensayo, bailar a la manera de sus antepasados. La tradición manifestada en la Virgen del Carmen es tan compleja y a la vez indiscutida como la enmarañada narrativa visual y musical creada por la veintena de danzas de Paucartambo; es una tradición producto de la historia del pueblo Paucartambino, cusqueño y peruano; una historia milenaria en una tierra de contrastes tan inhóspita como lo es munífica de supervivencia, adaptación, ingenio, conquista, mestizaje, pujanza y celebración. Las danzas que se pueden observar son : Saqra, Qapaq Chuncho, Contradanza, Kachampa, Auqa Chileno, Tarpuy, Challalla Phallchascha, Qollacha, Qapac Negro , Panaderos, entre otros.
Particularidades
La festividad de la Virgen del Carmen que se realiza en Paucartambo fue declarada como Patrimonio Cultural Inmaterial o Cultura Viva por R.D.N Nº 543-2006/INC con fecha de declaratoria 11/04/2006 por el Instituto Nacional de Cultura INC
Estado Actual
Paucartambo es reconocido como la capitla folklórica del Cusco y del Perú. Las danzas de Paucartambo son reconocidas.
Observaciones
Esta festividad se realiza cada año en el pueblo colonial de Paucartambo, a una altura de 3,017 m.s.n.m. y a 110 Km. de la ciudad del Cusco aproximadamente a 4 horas del Cusco.