Type: Tour
Duration: Full Day
Distance: 120 km
Season: All Year
Departure: Daily
Minimum of Passengers: 1 Person
Machu Picchu Full Day is the perfect destination for lovers of culture, ecotourism and adventure. The Machu Picchu Full Day Tour is the best way to get inside and feel the mystery, beauty and majesty of this great Inca city.
The Inca city of Machu Picchu is located in southern Peru, the department of Cusco, Urubamba Province and Machu Picchu district.
It is located at a distance of 120 km from the city of Cusco, taking into account that to reach Machu Picchu in one day you need to take a car from Cusco to Ollantaytambo Station and then the train to Machu Picchu.
Anyone trip to Cusco can be considered complete without a visit to the famous "Inca City of Machu Picchu", the most popular tourist destination of Cusco and Peru and one of the wonders left by our ancestors.
It is impossible to be disappointed to take a look at the ruins of Machu Picchu that rise miraculously among the lush vegetation above the clouds, framed by the surrounding mountains.
Machu Picchu is even more fascinating, when the visit is made as part of a tour after which you can walk, reflect and explore.
You can find breathtaking views, little recognizable views on postcards, for example from a sunny Inca terrace or hiking the trails to the nearby peaks such as Huaynapicchu Mountain and Machu Picchu Mountain.
Just breathing the air of Machu Picchu allows us to imagine why the Incas probably used the city as a place of refuge that offers mystery, silence and splendor
View Map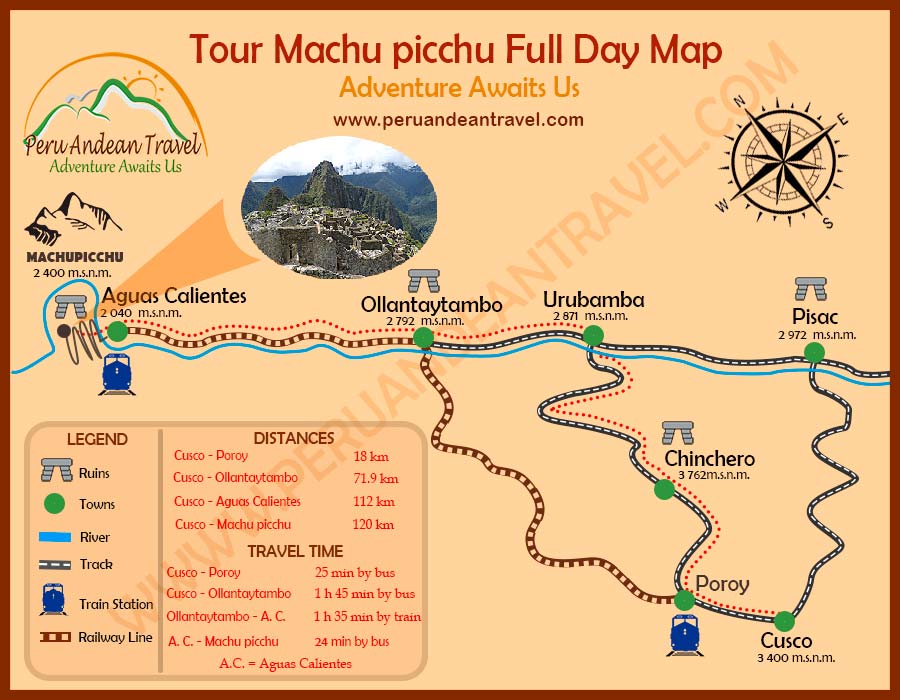 Machu picchu Tour Itinerary
We start with an early pick-up and transfer from your hotel in Cusco to Ollantaytambo or Poroy train stations by bus and then by train to the town of Aguas Calientes, close to Machu picchu.
The train journey takes around two and a half hours, passing through picturesque landscapes including the Sacred Valley of the Incas. On arrival in Aguas Calientes you will be met by our staff where you will be taken to the summit of Machu picchu mountain via a short bus journey.
Machu picchu Tour Full Day
Once there you will enjoy a guided tour for two hours where you will explore the most important and interesting places in Machu picchu. This ancient city is strategically situated at the top of the Machu picchu Mountain (Old Mountain in Quechua), at 2350 meters above sea level (7,710 ft).
Close by is the Huaynapicchu Mountain (Young Mountain), part of the western Vilcabamba mountain range, which are bordered by the Apurimac and Urubamba rivers. The Machupicchu sanctuary is located in the valley of the Urubamba river (also known as the Vilcanota) at the lower part of the Sacred Valley of the Incas, close to the edge of the Peruvian rainforest.
In the afternoon we return Cusco by train and bus from Aguas Calientes, via Ollantaytambo (Machu picchu full day).
Machu picchu Day Tour Information
Location of Machu picchu:
The Inca city of Machu Picchu is located in the southern part of Peru, in the Department of Cusco, Province of Urubamba, District of Machu Picchu (popularly called Aguas Calientes), to the Northwest of the City of Cusco.
Distance to Machu Picchu from Cusco:
Cusco - Ollantaytambo (En bus) ⇒ 71.9 km.
Ollantaytambo - Aguas Calientes (By train) ⇒ 43.00 km.
Aguas Calientes - Machu Picchu (By bus) ⇒ 9.00 km.
How Long is Machu picchu Full Day Tour?
Cusco - Ollantaytambo (By bus) ⇒ 1 hour 41 minutes.
Ollantaytambo - Aguas Calientes (By train) ⇒ 1 hour 45 minutes.
Aguas Calientes - Machu picchu (By bus) ⇒ 23 minutes.
Maximum and minimum height in the route to Machu Picchu from Cusco:
Maxima ⇒ Chinchero 3 762 m.s.n.m.
Minima ⇒ Aguas Calientes 2 040 m.s.n.m.
Height Machu picchu ⇒ 2 430 m.s.n.m.
Best Time to visit Machu picchu:
The city of Cusco has two well-defined seasons, the rainy season from December to February and the dry season from March to November, Machu Picchu can be visited all year round but the best season is from March to November.
Before arrival in Cusco
Please confirm the address of the hotel/hostel where you will be staying in order to organize your pick-up on the day of departure for Machu picchu full day.
Included
Train tickets Poroy/Ollantaytambo - Aguas Calientes.
Bus ticket from Aguas Calientes to Machupicchu round trip.
Entrance fee to the ruins.
Professional guide.
Transportation from Cusco to Ollantaytambo round trip.
Not Included
Meals.
Entrance to Huayna Picchu Mountain.
Services not mentioned.
What to Bring