Toritos de Pucará - Meaning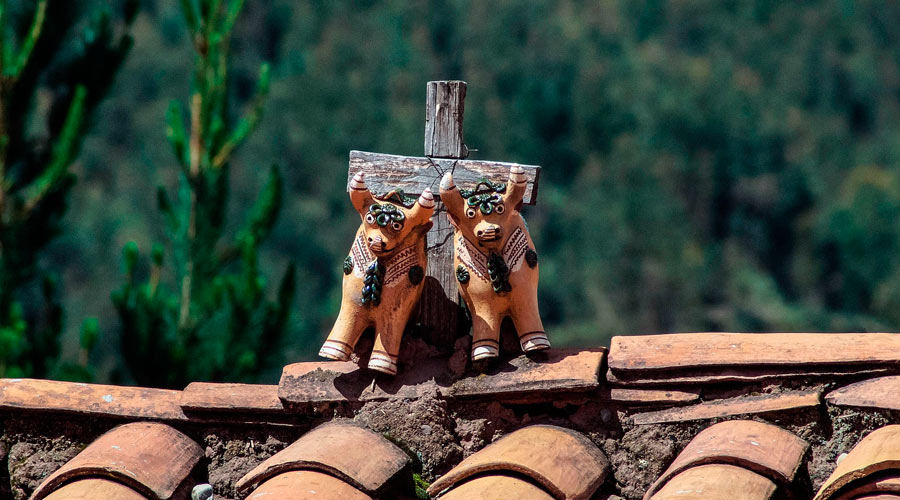 In Peru Andean Travel we are sure that if you know them, you have seen them on or inside a house or decorating a store, suddenly you already knew their name, but you probably do not know their history, Protection, Happiness and Fertility around a bull.
Los toritos de Pucará son muy conocidos en muchas partes del mundo por su curioso aspecto, es difícil ver en cerámica un fuerte toro, bien plantado en el suelo pero con ojos saltones y desorbitados, una lengua intentando lamerse la nariz y muchos adornos como si alguien los fuera a montar, realmente es muy raro, si a esto le agregamos una rara costumbre de colocar a los toros encima de las casas… pero… no te has preguntado el ¿Por qué?
Colocar 2 toritos de Pucará y una cruz en medio sobre las casas es una costumbre muy común en los pueblos andinos del Perú, en realidad, los he visto en casi todo el país incluyendo la capital Lima, pero es mucho más frecuente en Cusco, Puno, Ayacucho y Apurimac , pues esta tradición proviene de un pueblo llamado Pucará a 101Km al norte de Puno (unas 2 horas en auto).
---
¿Cómo empezó la tradición?
Todo empieza cuando los españoles llegaron al pueblo de Pucará con sus nuevos animales, en especial "El Toro" y lo incluyeron en una fiesta (que ya existía) celebrando el pago a la tierra, donde se pintaba, adornaba y ensillaba al toro, para luego colocarle picante en su nariz, se imaginan la irritación y locura del toro!!, pues esta imagen se quedó plasmada en muchas personas, ver a un poderoso toro con los ojos desorbitados por la irritación del picante, intentando lamerse la nariz y con su cola enroscada muy característico de los toros bravos.
En aquellos tiempos, existían varias comunidades encargadas de hacer cerámica para los conquistadores, por su especial cuidado en sus trabajos, una de estas comunidades fueron los Chepa Pupuja, que hasta ahora siguen haciendo cerámica para muchos pueblos, ellos en la época colonial, empezaron a hacer la imagen de estos toritos en cerámica para mantener una cultura mágico-religiosa entre los campesinos, que automáticamente adoptaron este símbolo como Protección, Felicidad y Fertilidad en los hogares.
Los Chepa Pupuja viven en la comunidad de Checa, no están en Pucará… sin embargo, ellos tenían que llevar sus trabajos donde existía gran cantidad de gente, así vender sus productos, en especial estos toros, de esta forma llegaron a establecer su venta en la estación ferroviaria más cercana, esta estación se encontraba enPucará y por eso se conoció su trabajo como "Toritos de Pucará"
Los toritos traen felicidad, protección y fertilidad a todos los que habitan sus casas, además, se considera un símbolo de la identidad andina, es por eso que muchas familias los tienen en la cumbre de sus hogares, ya sea en sus techos o como adornos en las viviendas, para vigilar los hogares, bendecir los matrimonios y proteger a la familia.