Rainbow Mountain, Mountain of Colors, Vinicunca, Cusco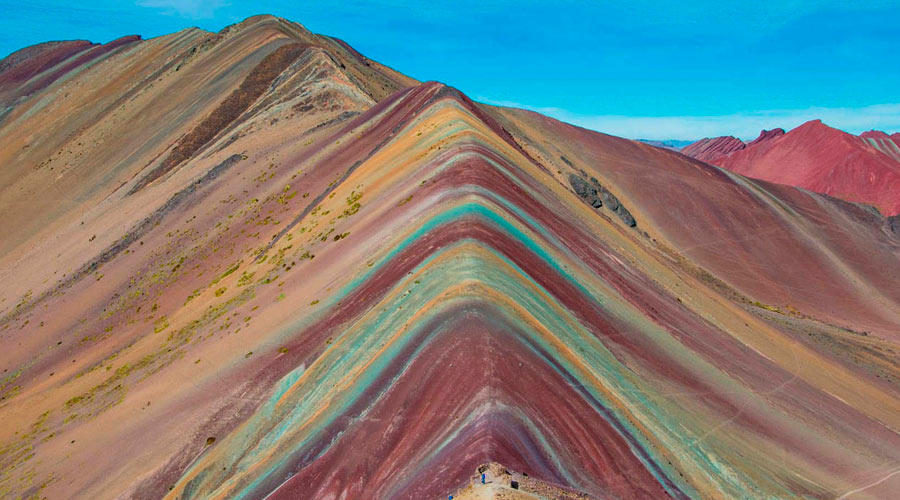 The Mountain of Colors or Mountain Rainbow (Rainbow Mountain) or more well-known by the local settlers like Mountain Colorado, lately this route in the Region of Cusco has become well-known; that is why in this publication of Peru Andea Travel we will let you know the details of this amazing natural geological formation.
Localizada en Vinicunca, provincia de Quipicanchis, Cusco. Sus formaciones geológicas revelan todo su esplendor, contrastado con el cielo azul forman una barrera formidable entre el desierto de la costa y la selva amazónica, dominado por el hermoso nevado Ausangate (6384 m), uno de los grandiosos apus (Divinidad de los Incas) de esta region.
Las montañas de Vinicunca es uno de los lugares espectaculares de la cordillera del Vilcanota, aguarda una coloración natural, esta coloración se da por la presencia de piedras sedimentarias en erosión. Lo impresionante es como se han formado las piedras para formar un conjunto de siete colores. La altura de la montaña es de aproximadamente 5,000 msnm.
Luego de 3 horas de viaje en bus desde el centro de la ciudad del Cusco, se inicia una caminata de 4 horas para llegar a la montaña desde la cual se puede admirar la Montaña Arco Iris y el hermoso valle que la rodea. El retorno es de menor dificultad y podría ser realizado en aproximadamente 2 horas.
La visita a este sitio tiene un agregado tan especial como la montaña de colores, me refiero al imponente nevado de Ausangate, una vista maravillosa y hermosa. El sacrificio que implica esta caminata se ve recompensada con las maravillas naturales únicas que admirarás y que de seguro formaran parte importante de tu vida.